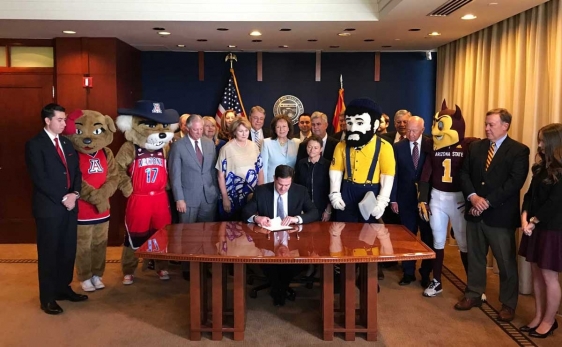 University Bonding Plan
"Today will be remembered as one that paved the way for decades of breakthroughs at our universities; one that opened the door for Arizona students to receive the highest-caliber university experience; and one that makes Arizona second to none in support of higher education."
Governor Ducey, May 2017
On May 22, 2017, with the presidents of Arizona's three public universities, members of the Arizona Board of Regents, and House and Senate legislators in attendance, Governor Ducey signed a landmark $1 billion investment plan supporting Arizona higher education.
The legislation enables approximately $1 billion in new investments to be directed toward research and development infrastructure at Arizona State University, the University of Arizona, and Northern Arizona University, and represents the fulfillment of one of the governor's top priorities this session.

House Bill 2547 appropriates $27 million in ongoing investments for universities that will enable approximately $1 billion in bonding—all without raising taxes. The legislation also includes cost reporting requirements for new projects to ensure accountability and oversight.  
Click here to read HB 2547.
Arizona's University Presidents & Board of Regents:
"On behalf of the Arizona Board of Regents, I applaud Gov. Doug Ducey and legislators for their visionary action and commitment to the long-term funding of Arizona's public universities. This infrastructure plan will benefit Arizona and its students for decades to come. We look forward to continue working together to advance education for all Arizonans." 
Eileen Klein, President, Arizona Board of Regents 
 "With the signing of this legislation, Governor Ducey is ushering in a new wave of support for higher education. The resulting development from this investment will enable us to continue offering students a premier education experience while advancing ASU's status as a world-class research university. I thank Governor Ducey and members of the legislature for their bold support of higher education."
Michael Crow, President, Arizona State University 
"On behalf of the University of Arizona, I thank Governor Ducey and the legislature for making this historic investment in the future of our state. This crucial investment will allow the UA to make repairs and renovations that have been deferred for years and avert millions of dollars in accumulating disrepair. It will also support the development of research infrastructure needed to secure Arizona's competitive advantage in a global economy. This is an incredibly important moment of partnership, and I am grateful for what it will make possible for the UA and Arizona."
Ann Weaver Hart, President, University of Arizona 
 "This landmark investment gives us the long-term ability to provide Arizona's university students the necessary facilities and resources to pursue their degrees and enter Arizona's workforce. Our deep gratitude goes to Governor Ducey and every member of the Arizona Legislature for their dedication to our students and the future of our state."
Rita Cheng, President, Northern Arizona University