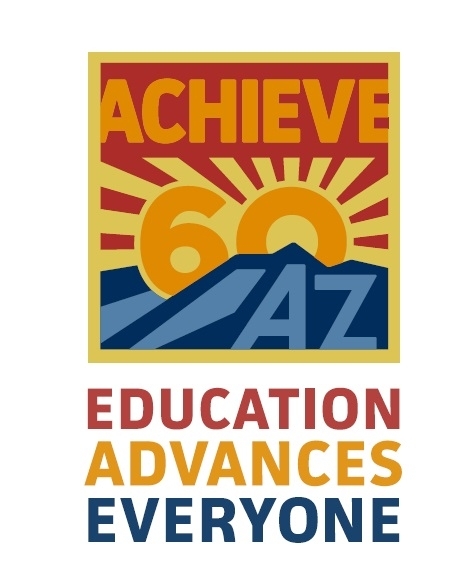 Preparing Students for Success in the Workforce and Community
VISION
Arizona has a diverse, well-educated, highly-skilled workforce participating in a thriving economy.
MISSION
Advance the postsecondary attainment of Arizonans by acting as a statewide catalyst for collaboration, public awareness, public policy, and data-informed planning and measurement.
OBJECTIVES
1. Drive a statewide strategic plan and performance report that identify statewide goals and actions that can be taken by partners to increase attainment
2. Bolster partners and catalyze collaboration to increase attainment
3. Propel a public awareness campaign about the importance of attainment
4. Advance public policies that promote attainment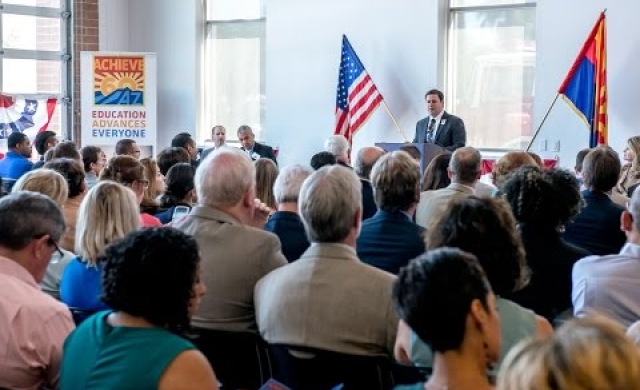 Currently in Arizona, only 42 percent of adults have education beyond a high school diploma.  However, in less than five years, nearly 70 percent of jobs will require education beyond high school.  In order for Arizona to be competitive, we need to focus on increasing the number of individuals who are equipped with a high value professional certificate or degree.  
To that end, a group of 60 community, business, philanthropic and education organizations throughout Arizona have formed an alliance to Arizona more competitive through the power of education by supporting a goal of 60 percent of adults, ages 25-64, with a professional certificate or college degree by 2030. This initiative, called Achieve60AZ, will work to achieve a more highly educated population in order to build Arizona's workforce and attract more business to our state. This will increase the tax base and decrease poverty. Increasing the number of Arizonans who earn education beyond high school will lead to a more diverse, knowledgeable and innovative workforce that can compete nationally and globally.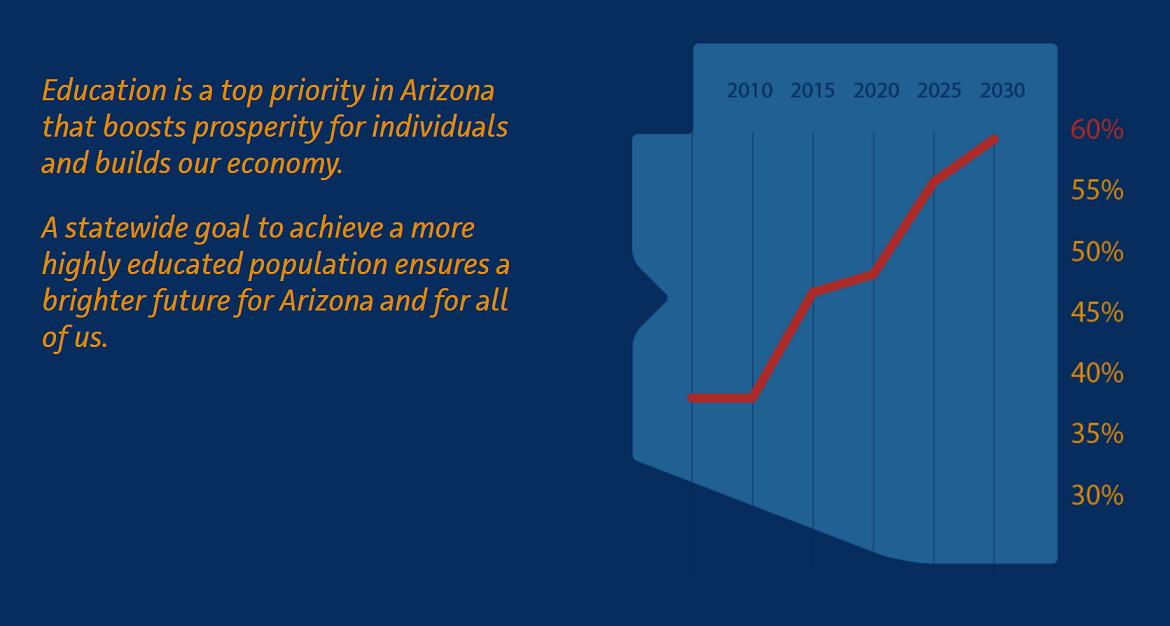 Achieve60AZ has four main strategies:
Strengthening the K-12 Pipeline – Increase college readiness and high-school graduation rates
Completing Credentials – Implement policies to make it easier for Arizonans to finish their certificates or college degrees.
Increasing Access – Raise awareness about options beyond high school and make them more affordable.
Aligning Workforce Needs – Engage businesses, governments and educators to identify and close the skills gap.
Governor Ducey is committed to helping Arizona achieve this ambitious goal. We recognize that it will take commitment and perseverance on the part of all of us. We invite you to visit Achieve60AZ.com to sign up and to learn how you can be a part of this important initiative.
 Learn more at achieve60az.com.
Achieve60AZ Alliance
More than 60 community, business, philanthropic and education organizations in Arizona form this independent alliance that is fueled by a community-based effort to make Arizona competitive through the power of education. Their goal is to generate greater awareness of the importance of increasing Arizona's level of educational attainment while building support to improve college entry and completion; boost adult education and training; and fuel a pipeline of competitive talent for Arizona's employers. 
The following organizations have endorsed the postsecondary degree attainment goal and are working together to make Arizona more competitive through the power of education.
A for Arizona
ACPE
Apollo Education Group
Arizona Board of Regents
Arizona Charter Schools Association
Arizona Commerce Authority
Arizona Commission for Postsecondary Education
Arizona Community College Coordinating Council
Arizona Community Foundation
Arizona Department of Education
Arizona Hispanic Chamber of Commerce
Arizona GEAR UP
Arizona School Boards Association
Arizona State University
Arizona State University Mary Lou Fulton Teachers College
Arizona Superintendent Association
ATRA
AZ Chamber of Commerce
AZ Commerce Authority
AZ State Board of Education Vocational Education Board
AZ Transfer
AzCAN
Center for the Future of Arizona
College Success Arizona
Dine College
Early Childhood Development Health Board
East Valley Partnership
Eastern Arizona Community College
Expect More Arizona
First Things First
Flagstaff Chamber
Glendale Union High School District
Goldwater Institute
Grand Canyon University
Greater Flagstaff Chamber
Greater Phoenix Chamber of Commerce
Greater Phoenix Educational Management Council
Greater Phoenix Leadership
Helios Education Foundation
ITT Tech
Jobs for Arizona's Graduates
Maricopa County Community College District
Midwestern University
Mohave County Community College District
Molera Alvarez
Northern Arizona Leadership Alliance
Northern Arizona University
Northern Arizona University College of Education
Northland Pioneer College
Penrose Academy
Piper Foundation
Read On Arizona
Southern Arizona Leadership Council
St. Xavier University
Stand for Children
State Board for Charter Schools
The Arizona We Want
Arizona Hispanic Chamber of Commerce
Universal Technical Institute
University of Arizona
University of Arizona College of Education
University of Phoenix
Veridus
West Coast Ultrasound Institute School of Imaging & Nursing
ACHIEVE60AZ RECEIVES LUMINA FOUNDATION ATTAINMENT CHALLENGE GRANT
April 20, 2017
Achieve60AZ has been selected as a recipient of the Lumina Foundation's Attainment Challenge Grant. The $100,000 grant will allow Achieve60AZ to develop and complete strategic, communication and business plans to ensure ongoing support for Arizona's community effort to increase attainment rates of college degrees or certificates for all Arizonans to 60 percent by 2030. (Read More...)
ACHIEVE60AZ DIRECTORS ANNOUNCE PROJECT MANAGER


February 16, 2017
Christine Thompson, a long-time education advocate in Arizona, has been appointed as the new project manager for Achieve60AZ. (Read More...)
HELIOS EDUCATION FOUNDATION SUPPORTS ACHIEVE60AZ WITH $100K GRANT
January 20, 2017
Achieve60AZ is pleased to announce its receipt of a grant of $100,000 from Helios Education Foundation. These funds will be directed toward capacity building, fundraising and other efforts that will help support the alliance in its mission to boost postsecondary attainment and workforce training among Arizonans. (Read More...)