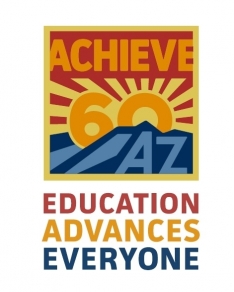 Preparing Students for Success in the Workforce and Community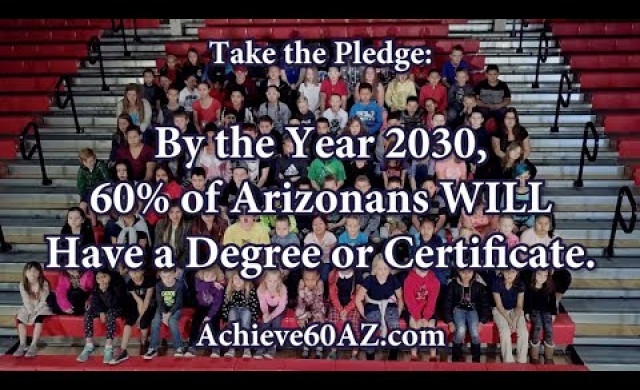 VISION
Arizona has a diverse, well-educated, highly-skilled workforce participating in a thriving economy.
MISSION
Advance the postsecondary attainment of Arizonans by acting as a statewide catalyst for collaboration, public awareness, public policy, and data-informed planning and measurement.
OBJECTIVES
1. Drive a statewide strategic plan and performance report that identify statewide goals and actions that can be taken by partners to increase attainment
2. Bolster partners and catalyze collaboration to increase attainment
3. Propel a public awareness campaign about the importance of attainment
4. Advance public policies that promote attainment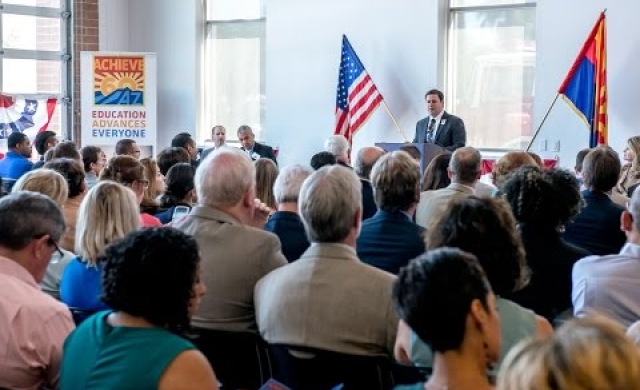 Currently in Arizona, only 42 percent of adults have education beyond a high school diploma.  However, in less than five years, nearly 70 percent of jobs will require education beyond high school.  In order for Arizona to be competitive, we need to focus on increasing the number of individuals who are equipped with a high value professional certificate or degree.  
To that end, a group of 60 community, business, philanthropic and education organizations throughout Arizona have formed an alliance to Arizona more competitive through the power of education by supporting a goal of 60 percent of adults, ages 25-64, with a professional certificate or college degree by 2030. This initiative, called Achieve60AZ, will work to achieve a more highly educated population in order to build Arizona's workforce and attract more business to our state. This will increase the tax base and decrease poverty. Increasing the number of Arizonans who earn education beyond high school will lead to a more diverse, knowledgeable and innovative workforce that can compete nationally and globally.

Achieve60AZ has four main strategies:

Strengthening the K-12 Pipeline – Increase college readiness and high-school graduation rates
Completing Credentials – Implement policies to make it easier for Arizonans to finish their certificates or college degrees.
Increasing Access – Raise awareness about options beyond high school and make them more affordable.
Aligning Workforce Needs – Engage businesses, governments and educators to identify and close the skills gap.
Governor Ducey is committed to helping Arizona achieve this ambitious goal. We recognize that it will take commitment and perseverance on the part of all of us. We invite you to visit Achieve60AZ.com to sign up and to learn how you can be a part of this important initiative.
 Learn more at achieve60az.com.
ACHIEVE60AZ NEWS
NEW APPOINTMENTS ANNOUNCED
September 4, 2018
Achieve60AZ has announced the appointments of Darcy Renfro, Chief of Staff to the Chancellor of the Maricopa County Community College District,and Julie Pastrick, President & CEO of Greater Flagstaff Chamber of Commerce, to Achieve60AZ's Board of Directors. Darcy Renfro was one of the original architects of Achieve60AZ and her extensive knowledge of postsecondary and workforce development will be critical to the future of Achieve60AZ's work. Julie Pastrick serves as an eye on how Achieve60AZ connects to Northern Arizona and brings with her a great deal of expertise in business development and regional growth.
ACHIEVE60AZ SELECTS DIRECTOR, POLCIY & COMMUNICATIONS
July 30, 2018
Phoenix, AZ – 
Achieve60AZ has officially selected Breanne Bushu to serve as the alliance's first ever Director of Policy and Communications. Achieve60AZ is a community-based alliance dedicated to advancing Arizona's postsecondary attainment level by acting a statewide catalyst for collaboration, public awareness, public policy, and data-informed planning, and measurement. Bushu brings a wide range of experience in the P-20 education space, and expertise in public policy research, strategic planning, and systems design.
"I am very excited for Breanne to join the team," said Rachel Yanof, Executive Director for Achieve60AZ. "She has the perfect qualifications for this role and will be a great asset to help advance the alliance forward. I'm hopeful that with Breanne's assistance, we can learn more about what Arizona must do to move the needle towards attainment." 
As the alliance's Director of Policy and Communications, Bushu will lead strategic policy and communications efforts for the alliance. Bushu will be working on research to understand further what steps Arizona must take in order to reach the postsecondary attainment goal.
"The board and I are excited to see Achieve60AZ's growth and how it will continue to evolve," said Rich Nickel, President and CEO of College Success Arizona and Achieve60AZ Board Member."The attainment goal is critical to the future of Arizona and we believe that with Breanne's expertise we will be able to learn more about what it will take for Arizona to reach this goal."
Prior to joining Achieve60AZ in this capacity, Bushu served as the Development Manager and Policy Advisor for the Center for the Future of Arizona and as a Fiscal Analyst for the Joint Legislative Budget Committee at the Arizona State Legislature. In her role with the Center for the Future of Arizona, she worked with school leaders around the state to refine education programming and policy and led the organization's efforts to overhaul existing development and grant systems. She began her career in education as a Teach For America Corps Member teaching middle school mathematics.
Bushu is actively involved in the community through the Flinn Foundation and Teach For America. Bushu is a 2016 Arizona Center for Civic Leadership's Flinn-Brown Fellow, and a 2015 graduate of the Leadership for Educational Equity's Policy Leadership Academy. In addition, Bushu is currently pursuing a Ph.D. in Educational Leadership and Policy from The University of Arizona, where she also earned a BFA in Studio Art and M.Ed. in Educational Leadership.
"I am honored and excited to be taking over this role," said Breanne Bushu. "Increasing Arizona's postsecondary attainment is a significant goal for our state, and I am excited to do my part in advancing attainment."
ARIZONA AWARDED GRANT TO CLOSE ATTAINMENT GAPS
July 17, 2018
New report from The Education Trust highlights Arizona's need to address attainment gap for Latino students.
Phoenix, AZ – 
According to a recent report from The Education Trust, Latino adults in Arizona are 26.9 percent less likely to hold a postsecondary degree than white adults. Arizona received a D rating for overall Latino Attainment. However, Arizona did receive a B- for progress on improving Latino attainment since 2000, pointing towards the many organizations and institutions working to decrease this attainment gap.
"While the Education Trust report highlights the challenges Arizona is facing in terms of our degree attainment rates for minority students, it also indicates that our state is making progress toward closing the attainment gap," said Paul J. Luna, President and CEO, Helios Education Foundation. "Arizona's statewide attainment goal and the Achieve60AZ collaboration is an example of the strides Arizona is making toward increasing the number of postsecondary degree holders in our state. Helios is proud to support Achieve60AZ and our state's goal of reaching 60 percent postsecondary degree attainment by 2030."
Arizona w
as recently one of three states awarded a two-year investment grant from the Western Interstate Commission for Higher Education (WICHE) and the Lumina Foundation. The grant involves participation in WICHE's Task Force on Closing Postsecondary Attainment Gaps. The Task Force is working on closing attainment gaps to ensure the state can meet our goal of 60 percent by 2030 and our country can move closer towards the national attainment goal. In Arizona specifically, the Task Force will be looking into the attainment gaps for Latino and Native American students and working on devising strategies to best meet the needs of students in those communities. 
The Maricopa Community Colleges have partnered with Arizona State University, Excelencia in Education, and the Helios Education Foundation, to look into the equity gap and work on statewide solutions. Six of the 10 Maricopa Community Colleges are designated as Hispanic Serving Institutions because of their commitment to serving low-income and Latino students. 
"Latinos represent the largest and fastest growing population in Arizona making up 31 percent of our population. Increasing access to higher education, reducing barriers, and improving success and completion rates for our students are our top priorities," said Dr. Maria Harper-Marinick, Chancellor of the Maricopa Community Colleges. "Latino students are the second largest group in the community college system, and we are proud to serve these students."
Earlier this year, The University of Arizona was also designated as a Hispanic Serving Institution. They are the only university in the state with this designation because of the work they are doing to support Latino and low-income students, though all three public universities are serving a large percentage of Latino students.
Additionally, the Helios Education Foundation has prioritized closing the attainment gap for Latino students through their work with the College Knowing and Going Initiative. Helios and the Arizona College Access Network (AzCAN) partnered on the initiative, which allows students in 18 school districts throughout the state to take the ACT for free during the school day. The initiative also includes funds to help students with postsecondary planning, college applications, and assistance with completing the FAFSA. Due to the initiative, over 140,000 students have been able to take the ACT, and Arizona did see a 30 percent increase in FAFSA completions last year.
"Arizona will not reach its goal unless we move towards closing these attainment gaps for minority students," said Rachel Yanof, Achieve60AZ Executive Director. "We are proud of the work being done by our partners, but we know that there is still a way to go to reach our attainment goal. Closing attainment gaps is vital to the success of our goal and the economic viability of our state."
VALLEY EDUCATION PROFESSIONAL TAPPED TO HEAD STATEWIDE EDUCATION INITIATIVE
December 18, 2017
The Board of Directors of Achieve60AZ is pleased to announce the selection of Rachel Yanof as the initiative's first Executive Director. Achieve60AZ is a community-based initiative whose mission is to advance the post high school attainment of Arizonans by acting as a statewide catalyst for collaboration, public awareness, public policy, and data-informed planning and measurement. (

Read More...

)
ACHIEVE60AZ ANNOUNCES COLLABORATIVE PARTNERSHIP WITH COLLEGE SUCCESS ARIZONA
October 26, 2017
Achieve60AZ announced a collaborative partnership with College Success Arizona, today, which will oversee the initiative's operations. The collaboration will formally begin November 1st.
Achieve60AZ was launched in September of 2016 and serves as an independent alliance of over 70 community, philanthropic, nonprofit and education organizations aimed at making Arizona more competitive through the power of education. The effort is supported by Governor Doug Ducey and communities and organizations across the state.
College Success Arizona is an Arizona-based, statewide, non-profit organization working to make postsecondary education more accessible for students. Since 2005, College Success Arizona has provided over $16.7 million in scholarships and specialized success services to nearly 1,300 Arizona high school students attending Arizona colleges and universities. 
"We've been working with the Achieve60AZ initiative since its inception, and we're honored to continue our work by providing managerial support of the program through this collaboration," said Rich Nickel, President and CEO of College Success Arizona. "The goals and objectives of our organization go hand in hand with the mission of Achieve60AZ, which is to increase the number of degree and certificate holders in our state."
Achieve60AZ will continue to be led by a separate board of directors including Rich Nickel, President and CEO of College Success Arizona; Dr. Maria Harper-Marinick, Chancellor of the Maricopa Community College and Chair of the Arizona Community College Coordinating Council; Eileen Klein, President of the Arizona Board of Regents; and Vince Yanez, Senior Vice President of Arizona Student Success Initiatives at Helios Education Foundation.
"Achieve60AZ continues to progress with College Success Arizona serving as a collaborative partner," said Eileen Klein, President of the Arizona Board of Regents and Achieve60AZ Board Member. "Advancing success for all beyond high school is crucial for our state's future workforce and to boost individuals' prosperity. The synergy between these organizations will enable our initiative to reach more people as we work to increase educational attainment in Arizona."
College Success Arizona has added the Achieve60AZ mission as a strategic priority for their organization, and this will be prominently included in the organization's strategic plan. College Success Arizona is committed to maintaining the engagement of a diverse range of stakeholders and community leaders across Arizona in activities to ensure the growth and success of the Achieve60AZ alliance. This collaboration will serve as the next step in helping Achieve60AZ evolve statewide.
ACHIEVE60AZ RECEIVES LUMINA FOUNDATION ATTAINMENT CHALLENGE GRANT
April 20, 2017
Achieve60AZ has been selected as a recipient of the Lumina Foundation's Attainment Challenge Grant. The $100,000 grant will allow Achieve60AZ to develop and complete strategic, communication and business plans to ensure ongoing support for Arizona's community effort to increase attainment rates of college degrees or certificates for all Arizonans to 60 percent by 2030. (Read More...)
ACHIEVE60AZ DIRECTORS ANNOUNCE PROJECT MANAGER
February 16, 2017
Christine Thompson, a long-time education advocate in Arizona, has been appointed as the new project manager for Achieve60AZ. (Read More...)
HELIOS EDUCATION FOUNDATION SUPPORTS ACHIEVE60AZ WITH $100K GRANT
January 20, 2017
Achieve60AZ is pleased to announce its receipt of a grant of $100,000 from Helios Education Foundation. These funds will be directed toward capacity building, fundraising and other efforts that will help support the alliance in its mission to boost postsecondary attainment and workforce training among Arizonans. (Read More...)
ACHIEVE60AZ Alliance
More than 60 community, business, philanthropic and education organizations in Arizona form this independent alliance that is fueled by a community-based effort to make Arizona competitive through the power of education. Their goal is to generate greater awareness of the importance of increasing Arizona's level of educational attainment while building support to improve college entry and completion; boost adult education and training; and fuel a pipeline of competitive talent for Arizona's employers. 
The following organizations have endorsed the postsecondary degree attainment goal and are working together to make Arizona more competitive through the power of education.
A for Arizona 
ACPE 
Apollo Education Group 
Arizona Board of Regents 
Arizona Charter Schools Association 
Arizona Commerce Authority 
Arizona Commission for Postsecondary Education 
Arizona Community College Coordinating Council 
Arizona Community Foundation 
Arizona Department of Education 
Arizona Hispanic Chamber of Commerce 
Arizona GEAR UP 
Arizona School Boards Association 
Arizona State University 
Arizona State University Mary Lou Fulton Teachers College 
Arizona Superintendent Association 
ATRA 
AZ Chamber of Commerce 
AZ Commerce Authority 
AZ State Board of Education Vocational Education Board 
AZ Transfer 
AzCAN 
Center for the Future of Arizona 
College Success Arizona 
Dine College 
Early Childhood Development Health Board 
East Valley Partnership 
Eastern Arizona Community College 
Expect More Arizona 
First Things First 
Flagstaff Chamber 
Glendale Union High School District 
Goldwater Institute 
Grand Canyon University 
Greater Flagstaff Chamber 
Greater Phoenix Chamber of Commerce 
Greater Phoenix Educational Management Council 
Greater Phoenix Leadership 
Helios Education Foundation 
ITT Tech 
Jobs for Arizona's Graduates 
Maricopa County Community College District 
Midwestern University 
Mohave County Community College District 
Molera Alvarez 
Northern Arizona Leadership Alliance 
Northern Arizona University 
Northern Arizona University College of Education 
Northland Pioneer College 
Penrose Academy 
Piper Foundation 
Read On Arizona 
Southern Arizona Leadership Council 
St. Xavier University 
Stand for Children 
State Board for Charter Schools 
The Arizona We Want 
Arizona Hispanic Chamber of Commerce 
Universal Technical Institute 
University of Arizona 
University of Arizona College of Education 
University of Phoenix 
Veridus 
West Coast Ultrasound Institute School of Imaging & Nursing