Arizona Broadband for Education Initiative
"Increasing access to reliable, affordable broadband service is complex and challenging — but it is crucial to helping our rural communities bridge the digital divide. I'm very proud of the work the Arizona Broadband for Education Initiative is doing to create pathways that foster student success and advance economic prosperity in Arizona schools and communities that need it most."

Governor Ducey, August 13, 2018
The Arizona Broadband for Education Initiative is a partnership between the Governor's Office of Education, the Arizona Department of Education, the Arizona Corporation Commission and the nonprofit organization EducationSuperHighway. The program's goal is to ensure that every public K-12 instructional building in the state is connected via high-speed and reliable broadband connections to enable digital learning in the classroom.
To accomplish this goal, EducationSuperHighway's team is donating the expert resources and time needed to upgrade school district's broadband networks to scalable, cost-effective infrastructure and to increase bandwidth to classrooms. EducationSuperHighway's district consultants will work directly with school district leaders — at no cost — to research technology and service provider options, develop a form 470/RFP strategy, and support the implementation of the new network.
The Arizona Department of Education and the Governor's Office of Education will provide schools and libraries with additional supports by providing Erate support assistance via the State Erate Controller and identifying potential funding sources to cover infrastructure construction costs.
RESOURCES
ESH RELEASES 2018 STATE OF THE STATES ANNUAL REPORT ON K-12 BROADBAND CONNECTIVITY


October 2, 2018
In 2013, a bipartisan coalition—from the FCC to governors to school officials and Internet service providers— joined together to end the digital divide in our nation's classrooms. As a result, 40.7 million more students have high-speed Internet access than did in 2013.
44.7 million students and 2.6 million teachers1 in more than 81,000 schools now have the Internet access they need for digital learning.
This impressive progress continued during the 2017-18 school year. The number of students without highspeed Internet access was reduced by 4.2 million and the number of schools without 21st-century broadband infrastructure declined by 34%. So, as the new school year begins, 98% of America's K-12 school districts— both rural and urban—have the broadband infrastructure and Internet access they need for digital learning.
Read the full report
Download the 2018 Arizona Snapshot
APACHE COUNTY SCHOOLS EXPECTED TO THRIVE WITH NEW ACCESS TOP HIGH-SPEED INTERNET
August 13, 2018
The beginning of construction is approaching for the expansion of broadband internet access to rural schools in Apache County, Arizona.
The new development was spurred by the Arizona Broadband for Education Initiative, an effort by the state Department of Education to bring schools and libraries across the state equal access to high-speed internet service.
"With the help of the (Arizona) Corporation Commission and the governor's office and us, we all sort of teamed together to pass the initiative," said Stefan Swiat, public information officer for the Arizona Department of Education. Swiat wrote the grant application that made the broadband initiative possible. (Read More...)
REBOOTING EDUCATION: FEDERAL AND STATE FUNDS  BRING HIGH-SPEED INTERNET TO RURAL AREAS
May 16, 2018
Not so long ago, teachers at Congress Elementary School had to start downloading a video the night before showing it in class.
The school was hobbled by low internet broadband speed, or bandwidth. In densely populated
areas, such as Phoenix and Tucson, bandwidth is high, so online content loads as swiftly as cars on a highway. Outside metro areas, going online is like a traffic jam on a one-lane dirt road.
In Congress, an old mining town turned farming community 50 miles southwest of Prescott, students once trailed city folks in online educational resources. But in recent years, educators in Yavapai County cobbled together state and federal funds to upgrade their broadband connection, and this year won an $1.8 million grant that will bring it up to standard. (Read More...)
HIGH-SPEED BROADBAND CONSTRUCTION TO START UP THIS SUMMER IN APACHE CO
March 2, 2018
High-speed broadband internet is on its way to the White Mountains, thanks to federal dollars and a state match that will connect school and libraries to broadband.
The resulting broadband infrastructure projects will eventually allow rural communities to piggyback on the high-speed cable connections that will be installed in schools and libraries.
In the future, some residential areas in rural communities will also be able to connect, according to county officials who spoke at a conference last week. (Read More...)
E-RATE DEADLINE APPROACHING
February 6, 2018
There is light at the end of the internet connection, at least for schools and libraries.
The light comes in the form of the E-rate program. The program provides Arizona schools and libraries the opportunity to receive federal and state funding to obtain better internet access. However, the deadline to apply for E-rate funds is February 21, depending on the type of construction needed to bring internet to your facility. (Read More...)
ARIZONA DEPARTMENT OF EDUCATION TO HOST FREE SIGN-UP DAY FOR HIGH-SPEED INTERNET
As you may know, the Arizona Broadband for Education Initiative provides a once-in-a-generation opportunity for all schools in Arizona to sign up for access to broadband (high-speed) internet service at free or little cost before the deadline in early 2018 closes.
In order to make it easy for schools to take advantage of this program, the Arizona Broadband for Education Initiative – in conjunction with Arizona Superintendent of Public Instruction Diane Douglas, as well as Cochise County Superintendent Jacqui Clay and Coconino County Superintendent Risha VanderWey – are hosting two "sign-up days" at no cost to the schools.
RSVP by emailing Milan Eaton at [email protected] by December 5, 2017. 
9 AM – 4 PM on December 7, 2017 in Cochise County at 901 North Colombo Ave, Sierra Vista AZ
9 AM – 4 PM on January 11, 2018 in Coconino County at 400 North Cummings St, Flagstaff AZ
ESH RELEASES 2017 STATE OF THE STATES ANNUAL REPORT ON K-12 BROADBAND CONNECTIVITY


September 2017
In 2013, our nation made a promise to close the K-12 digital divide and level the playing field for children throughout America. In the past four years, unparalleled bipartisan action has led to exceptional progress toward fulfilling this promise by connecting an additional 35.2 million of our students.
In 2017, the progress made possible by E-rate modernization continued, reducing the number of students without high-speed Internet access by 5.1 million and the number of schools without 21st-century broadband infrastructure by 45%, thereby setting the stage for the nation to deliver on our promise of digital equity by 2020.
ESH RELEASES 2017 ARIZONA PROGRESS SNAPSHOT


September 2017
Governor Ducey and state leaders launched the Arizona Broadband for Education Initiative and worked together to fund an $11 million state matching fund for broadband upgrades. In 2017, Arizona leveraged $75.7 million of federal E-rate funds.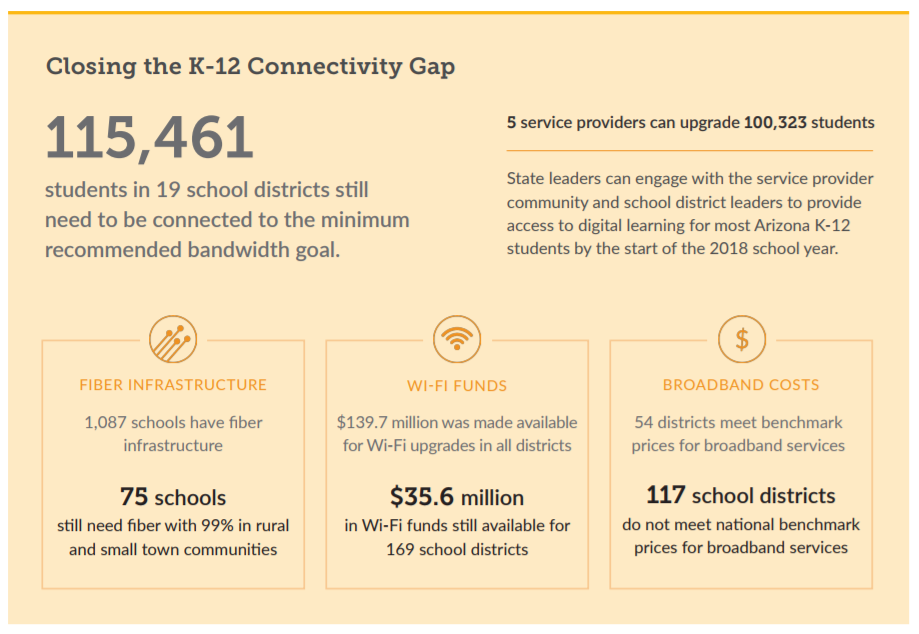 Click here to see Arizona's 2017 Snapshot. 
ESH RELEASES 2016 STATE OF THE STATES ANNUAL REPORT ON K-12 BROADBAND CONNECTIVITY


January 2017
In Janaury 2017, EducationSuperHighway released their 2016 State of the States report profiling the status of Internet connectivity in K-12 public schools across the nation. The report shows the great progress that has been made on upgrading schools both nationally and state-by-state - 34.9 million students and 2.4 million teachers in 70,000 schools now have the minimum connectivity they need for digital learning. 
Highlights from Arizona:
77% of school districts representing 679,131 students meet the minimum connectivity goal of 100 kbps per student.
58 school districts upgraded their networks in 2016 leading to 434,482 students getting more bandwidth.
91% of schools have the fiber connections needed to keep up with growing bandwidth demand from students and teachers.
73% of school districts report sufficient Wi-Fi in all their classrooms. $56M of E-rate funding remains to support Wi-Fi network upgrades.
23% of school districts are maximizing the bandwidth they are getting for their budgets.
Click here to see a full copy of the 2016 State of the States Report.
FULL VERSION OF COMPARE & CONNECT K-12 APPLICATION RELEASED




December 2016
For schools interested in expanding their broadband access through the Arizona Broadband for Education Initiative, the Arizona Department of Education (ADE) and the Governor's Office of Education would like to inform you of an incredible tool that could assist your school in those efforts.
 
With the 2017 E-Rate filing window rapidly approaching, the nation's leading broadband non-profit, EducationSuperHighway, released the full version of its Compare & Connect K-12 application this past month. This easy-to-use tool is equipped with powerful new features that assists schools in getting the most bandwidth for their broadband budgets. 
 
Compare & Connect K-12 allows schools to:
Find out what other districts are buying to support digital learning
Compare broadband options in a state or across the country
See what service providers are offering to nearby districts
View a summary of 2016 E-Rate filing
The information featured on Compare & Connect K-12 is generated from school districts' E-Rate form 471 applications, as well as clarifications made by the EducationSuperHighway team. This tool not only makes broadband and pricing data transparent, but it provides real perspective into a school's particular financial and geographic situation, while also opening up possibilities that it never knew that it had.
 
The Governor's Office of Education and ADE hope that Compare & Connect K-12 is helpful in your school's pursuit of expanding its broadband access. For questions or additional information, contact Alyssa Cubello from EducationSuperHighway at [email protected]. 
NEW OPPORTUNITY LOOKS TO CONNECT SCHOOL TO BROADBAND

November 17, 2016
Arizona's vision is for schools statewide to have scalable, affordable and reliable internet access. With access to high-speed broadband, students can take remote classes and receive digital learning opportunities that they never knew existed. Educators will be able to dramatically enhance their professional development capabilities and communities will be transformed by the cultural and economic benefits of simply being connected to the internet.
As part of the Arizona K-12 Broadband Upgrade Program, ADE will be working with LEAs to make the most of the E-Rate dollars available them. Already, the E-Rate program has assisted 3.2 million students, improved the infrastructure of 2,229 buildings and benefitted 545 schools in Arizona.
As of 2008, the state was able to procure just 33 percent of its requested E-Rate funds, receiving only about $60 million of nearly $180 million in funding requests. Due to its performance in recent years, that number has now increased to roughly 90 percent, allowing technology to reach more Arizona students than ever before.
IN THE NEWS: AZ's E-Rate Program Offers Affordable Access For Schools (AZednews)
November 9, 2016
The Arizona Department of Education would like to inform you of an incredible opportunity for underserved Local Education Agencies to receive broadband access at potentially no cost to the school.
Currently, only six percent of Arizona schools meet the FCC target of $3 per MB for internet access. Furthermore, many schools in our state's most rural areas possess no access to any internet connection whatsoever.
Arizona's vision is to provide statewide scalable internet access, as well as faster connectivity to every school so that every student in the state has reliable broadband access.

Read More...
BLOG: Governor's Office & Arizona Department of Education Partner to Increase Internet Access for Arizona Students
March 18, 2016
High-speed internet access. For most of us, we never think twice about it - it's just there. However, not every citizen in our state is lucky enough to get internet wherever they want, whenever they want, as fast as they want it. Arizona has diverse terrain that includes mountains, deserts, and widespread distances between consolidated populations (over 84 percent of the population lives in 10 percent of the state). These factors create obstacles for service providers to install the necessary infrastructure for broadband connectivity. The resulting lack of access to high-speed internet in rural areas makes it difficult for teachers to access online tools for classroom instruction, conduct professional development, complete certification, and utilize student dashboards with real-time instructional data that informs instructional decisions. It also makes it challenging for students to access online courses, perform online research, take online assessments, and utilize other free educational services created by the state.
Governor Ducey believes students should have access to the internet connectivity they need, and the Arizona Governor's Office of Education is proud to announce that Arizona has been selected to participate in the K-12 Broadband and Digital Learning Policy Academy (Broadband Policy Academy), a project administered by the National Governors Association Center for Best Practices (NGA Center) in partnership with EducationSuperHighway (ESH).