CSforAZ - Computer Science Initiative
 "I recognize the importance of computer science education in all grade levels. In lower grades, computer science curriculum develops necessary critical thinking and problem solving skills. In high school, rigorous computer science coursework prepares the student for high-paying workforce opportunities in the high-demand technology sector. With the support of industry partnerships, we will strive to improve access to computer science education in our schools by increasing professional development opportunities for existing and new computer science teachers." 
Governor Ducey, September 2017
INCREASING ACCESS TO HIGH-QUALITY SCIENCE, TECHNOLOGY, ENGINEERING, AND MATHEMATICS (STEM) EDUCATION
September 2017
On September 25th in the Oval Office, joined by dozens of students, President Donald J. Trump signed a Presidential Memorandum expanding access to high-quality Science, Technology, Engineering and Math (STEM) and Computer Science education to K-12 students. Now more than ever, STEM and Computer Science industries are playing a huge role in the vitality of our economy which is why high-quality education in these fields is so crucial.
Click here to read the facts on Memorandum for STEM Education Funding
Click here to read the full Presidential Memorandum for STEM Education Funding
GOVERNOR DUCEY SECURES FUNDING FOR DEVELOPMENT OF COMPUTER SCIENCE STANDARDS & PROFESSIONAL DEVELOPMENT
May 2017
The Governor is proud to be involved with Arizona's computer science initiative through the Governor's Partnership on Computer Science- a Code.org collaboration.
As part of the FY2018 budget, Governor Ducey proposed and received funding to advance the first phase of Arizona's statewide computer science initiative, CSforAZ, through the development of computer science standards and professional development for all teachers with the goal of having all AZ high schools offering a computer science course.
Click here to get more information on CSforAZ                 
NEW REPORT TRACKS POLICY PROGRESS ON EXPANDING K-12 COMPUTER SCIENCE EDUCATION


April 2017
A new report describing the progress of U.S. states in achieving 10 policy priorities for improving and expanding K–12 computer science (CS) education was released today at a national workshop led by Google, EDC, and the Massachusetts Computing Attainment Network (MassCAN) on Google's Cambridge campus. The report highlights key strategies and issues state leaders must address regarding CS education.
A group of leading CS education organizations co-authored State of the States Landscape Report: State-Level Policies Supporting Equitable K–12 Computer Science Education, with funding from BNY Mellon. The group includes the following:
EDC
Code.org
Education Commission of the States
NSF BPC Expanding Computing Education Pathways (ECEP) Alliance
Massachusetts Computing Attainment Network (MassCAN)
SageFox Consulting Group 
Click here to read the full press release.
Click here to download State of the States Landscape Report: State-Level Policies Supporting Equitable K–12 Computer Science Education.
GOVERNOR'S PARTNERSHIP FOR K-12 COMPUTER SCIENCE
Computing is a fundamental part of daily life, commerce, and just about every occupation in our modern economy. It is essential that students be exposed to the field of computer science in our K-12 system—as it is foundational in transforming the way students think about the world. Computer science teaches them not only about technology, but also about how to approach problems differently. Computer science puts students on the path toward some of the highest-paying, fastest-growing jobs in America.
Governor Ducey recognizes the essential roles of state leaders in advancing policy and allocating funding to expand K-12 computer science in our states and the importance of working collaboratively and efficiently with other state leaders to identify challenges and share promising practices.
To that end, Governor Ducey has announced his participation in the Governor's Partnership for K-12 Computer Science to work toward the following policies that will help meet the goal of increasing access to K-12 computer science in Arizona. Governor Ducey joins co-chairs Governor Asa Hutchinson (AR) and Governor Jay Inslee (WA), along with Governor Gina Raimond (RI), Governor Branstad (IA), Governor Terry McAuliffe (VA), Governor Brian Sandoval (NV) and Governor Butch Otter (ID) to work toward the three following policy priorities:


Enable all high schools to offer at least one rigorous computer science course; 
Fund professional learning opportunities so teachers can be prepared to teach these courses; and, 
Create a set of high-quality academic K-12 computer science standards to guide local implementation of courses.


Partnership members commit to work toward the three policy priorities listed above by engaging with Code.org and other partners to identify the appropriate institutions that have jurisdiction over these matters and creating plans for how to accomplish these goals. This may include creating task forces within the state that will be responsible for guiding the state toward these goals, working on legislative efforts, and including these items as a priority in the state budget.
The Partnership will also share best practices for computer science education reform, and advocate for federal policies that support the expansion of, and access to, K-12 computer science, including funding opportunities, flexibility, and policy change. The Partnership will raise awareness of state efforts to expand computer science education, focused on the 3 priority policy areas, both among Partnership members and to the public via the Partnership website. State plan development, task force creation, and other iterative steps in the policy and funding process will be reported as "working towards" goals in status updates. Legislative efforts, budget proposals, executive orders, and other policy advances will be tracked and shared, as well.
Code.org will provide the Partnership with resources related to best practices in policy and programs, and will facilitate collaboration among Governors and their staff, in person and virtually.
COMPUTER SCIENCE IN ARIZONA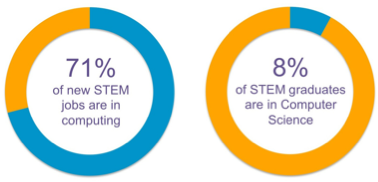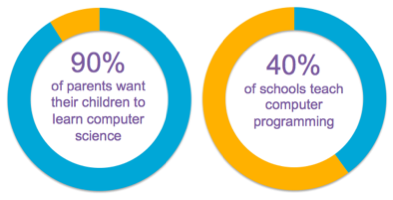 • Arizona currently has 9,657 open computing jobs (2.8 times the average demand rate in Arizona). 
• The average salary for a computing occupation in AZ is $85,165, which is significantly higher than the average salary in the state ($45,310). 
• Arizona had only 484 university computer science graduates in 2014; only 15% were female. 
• In 2016, 438 high school students in Arizona took the AP Computer Science exam; only 23% were female; 62 students were Hispanic or Latino; 4 students were Black; 1 student was Native American and only 1 student was Native Hawaiian or Pacific Islander. 
• Only 42 schools in AZ (13% of AZ schools with AP programs) offered the AP Computer Science course in the 2015-2016 school year. There are fewer AP exams taken in computer science than in any other STEM subject area.
SUPPORT K-12 COMPUTER SCIENCE EDUCATION IN ARIZONA




Computer science drives job growth and innovation throughout our economy and society. Computing occupations are the number 1 source of all new wages in the U.S. and make up two-thirds of all projected new jobs in STEM fields, making Computer Science one of the most in-demand college degrees. And computing is used all around us and in virtually every field. It's foundational knowledge that all students need. But computer science is marginalized throughout education. Fewer than half of U.S. schools offer any computer science courses and only 8% of STEM graduates study it. We need to improve access for all students, including groups who have traditionally been underrepresented.