"Arizona teachers are the biggest difference-makers in the lives of Arizona's children, and we need to reward them for their hard work —  this plan does that through a 20 percent pay increase by school year 2020. We are also making significant investments in Arizona classrooms in a responsible and sustainable way. We will never stop our commitment to improving Arizona's public education system because when it comes to our kids, we must never stop working for them."
-Governor Ducey, April 2018
TEACHER PAY PACKAGE: PASSED AND SIGNED
On April 12, Governor Ducey announced a plan to increase teacher pay by 20 percent -- and we're proud to report, we've delivered. Raises are on the way to Arizona teachers.
The #20x2020 plan has been passed by the legislature and Governor Ducey was proud to sign it into law, providing a 20 percent boost in teacher pay over the next three years and a significant increase in flexible dollars to Arizona schools for new textbooks, technology, infrastructure, and support staff.
Once fully implemented in school year 2020, the plan will constitute an increase of more than $1 billion in education spending.
And this is important: The budget does not compromise essential state services to accommodate our teacher pay package. It maintains the state's commitment to fund developmental disabilities, skilled nurses, Medicaid, critical access hospitals, the arts, food banks, Alzheimer's research and higher education. It accomplishes all of this, without raising taxes on hardworking Arizonans.
We will never check the box on public education, and it remains one of the state's most important responsibilities. With our economy growing, there is no better place to invest our dollars.
Our teachers do amazing work inside the classroom, and they have earned this raise.
For more details on the plan click HERE.
Governor's Budget Office Releases FY 2019 District-Level Funding Projections
May 31, 2018
The Governor's Office of Strategic Planning and Budgeting released an analysis today detailing the projected amount of funding each Arizona school district and charter school will receive as part of the #20x2020 plan, enacted in the fiscal year 2019 budget.
Funding estimates in the analysis are based on increases in the base level formula for teacher pay, inflation, and the restoration of District and Charter Additional Assistance.
The funding is allocated on a per-pupil basis, and projections are based primarily on current enrollment levels. Exact funding amounts might vary based on increases or decreases in enrollment for the upcoming year.
For more information on funding for school districts and charter schools, read the full publication HERE.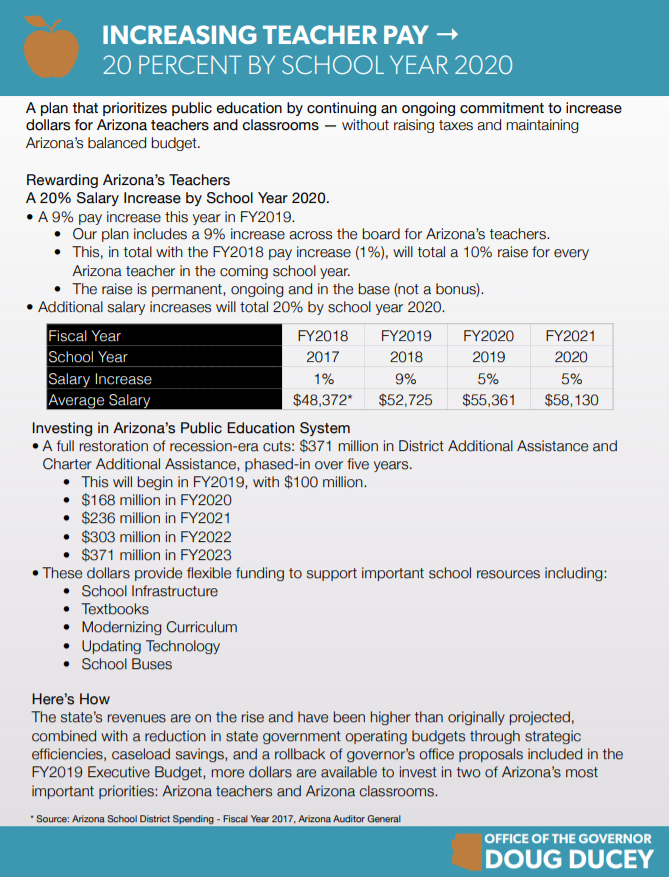 Arizona teachers are some of the biggest difference-makers in the lives of children. They deserve to not only be respected for their hard work -- but also rewarded. That's why we have a plan to provide teachers in Arizona a 20% pay increase by school year 2020. The education community supports this plan because it also makes significant NEW investments in K-12 education -- with flexible dollars for superintendents and principals to use for building improvements, new textbooks, technology or additional raises for support staff.
Here's how it will work:
10% pay raise for teachers by the start of the fall 2018 school year;
A 5% pay raise in 2019;
And another 5% pay raise in 2020. 

What does this mean? Today, the average teacher pay in Arizona is $48,372. With this plan, it will increase to $52,725 by the new school year this fall. By the beginning of the 2020 school year, the average teacher pay for our teachers will be $58,130.
If you agree that Arizona's teachers deserve a 20% raise, co-sign the plan HERE.
Investing in our teachers and public schools is our top budget priority. Arizona has done big things before, and with your help, we can do it again.
SUPPORT
Arizona Rural Schools Association
Arizona JTED Consortium
Diane Douglas, Superintendent of Public Instruction
Vail School District
Dr. Sally Downey, Evit Superintendent 
Greater Phoenix Chamber of Commerce
Arizona Chamber Of Commerce Statement On Gov. Ducey's Teacher Pay Increase Proposal
Chambers Of Commerce Across Arizona Support Governor Ducey's 20x2020 Plan
AZ Big Media: Arizona Technology Council Supports Ducey's Education Plan
ICYMI: Arizona Hospital And Healthcare Association Statement On Gov. Ducey's Teacher Pay Increase Proposal
Arizona Association of Health Plans
Arizona Hospital and Healthcare Association Statement
Health System Alliance of Arizona Statement
Superintendent Diane Douglas Statement On FY 2019 Budget

NEWS



KJZZ: Arizona Teachers Anticipate Bigger Paychecks
Teacher raises in Arizona school districts, charter schools
How Arizona school districts plan to increase teacher, staff pay
Governor Doug Ducey Announces Teacher Pay Increase
Governor Ducey Proposes 20% Teacher Pay Raise
KVOA: Governor Ducey Proposes A Teacher Pay Raise
KOLD: Governor Ducey Proposes Teacher Raise Plan
3TV: Governor Ducey Makes Announcement About Teacher Pay
The Guardian: Arizona's Republican governor says he's willing to fund 20% pay rise for teachers 
12 News: Educators are encouraged but skeptical about Gov. Ducey's new pay plan 
Daily Miner: Gov. Ducey unveils plan to get teachers pay hikes over next 3 years 
Phoenix Business Journal: Poll: Arizona Voters Approve Of Ducey's 20% Teacher Pay Raise
What They Are Saying: The 20x2020 Plan
KJZZ: Arizona Education Groups Announce Support Of Governor's Pay Raise Plan
KTAR: Ducey Has Voters' Support For His Plan To Raise Teacher Pay, Poll Shows
ICYMI: Chambers Of Commerce Across Arizona Support Governor Ducey's 20x2020 Plan
Cronkite News: Business And Education Groups Show Support For Governor Ducey's Teacher Pay Plan
ICYMI: Arizona Chamber Of Commerce Statement On Gov. Ducey's Teacher Pay Increase Proposal
AZ Big Media: Arizona Technology Council Supports Ducey's Education Plan
What They Are Saying: The Fiscal Year 2019 Budget
Governor Ducey Signs 20 Percent Increase In Teacher Pay
RESOURCES
 20x2020 Plan
Key Facts
Support 20x2020: Co-Sign the Plan
Open Letter from Governor Ducey
Budget Presentation
VIDEOS