PHOENIX — Last Thursday, Governor Doug Ducey released the20x2020 plan, prioritizing public education by rewarding Arizona's teachers and investing NEW money into Arizona's classrooms. 
The plan:
Rewards Arizona teachers with a 20% raise by school year 2020 — including a 10% raise by school year 2018;
Fully restores recession-era cuts: $371 million in District Additional Assistance and Charter Additional Assistance, phased-in over five years with a $100 million investment in 2018.
Read what others are saying about Governor Ducey's plan:
Arizona Rural Schools Association
"As superintendents of rural schools in 106 districts across Arizona, we the Arizona Rural Schools Association, are impressed by the effort that GovernorDoug Ducey has undertaken to develop a valuable proposal that moves our state in the right direction on the issue of school funding.  Rural schools in Arizona have a broad spectrum of needs and the proposal to increase teacher funding by 20% over three years and restore soft capital funding over five years enables local school leaders to more effectively address the challenges facing our schools. 
Rural schools struggle to attract and retain quality qualified teachers.  The proposal to increase teacher salaries by 10% for the coming year plus an additional 5% for each of the two years that follow will improve our ability to put excellent teachers in the classroom and keep them in the profession.  Thegovernor's proposal recognizes that these funds must be protected for years to come by including them in inflation adjustments.  This is a meaningful step in the right direction.
"Rural schools also face challenges when it comes to providing the tools and environment where learning can take place.  The cuts to education funding that were necessary during the Great Recession need to be restored, and theGovernor's proposal includes restoration of $400 million over a five year period.  Maintaining the commitment to spending $100 million on this restoration effort this year shows that the Governor understands that to improve the quality of education in Arizona rural schools we need funding for staffing and materials.
"There are other proposals and demands that claim to address the needs of rural schools in Arizona.  After considering the options, we are convinced that the best path forward has been mapped out by our Governor.  We appreciate the opportunity that rural superintendents have had to participate in the discussions that contributed to the formulation of this proposal.  School children in rural public schools across Arizona have needed additional support, and through this proposal which we endorse, Governor Ducey is demonstrating his commitment to leading the effort to strengthening their opportunity to achieve excellence in our schools."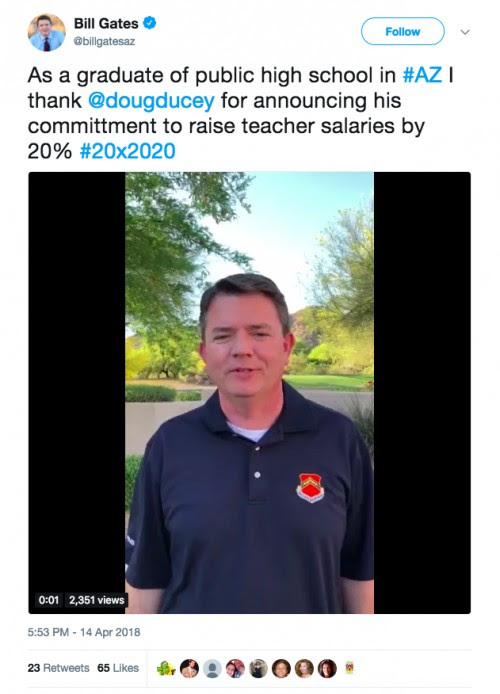 Diane Douglas, Superintendent of Public Instruction
"I have long been an advocate that Arizona teachers receive substantial salary increases. I'm pleased to see leadership at the Capitol focusing so intently on this incredibly important issue. I am confident that the Governor and the Legislature will reach a positive outcome for teachers and Arizonans. I would be happy to support those efforts in any way that I can."
Dr. Sally Downey, Superintendent, East Valley Institute of Technology
"Gov. Doug Ducey has proposed a plan to raise Arizona teachers' salaries by 20 percent by 2020. Details are still being worked out, but this is a very encouraging step toward ensuring that Arizona can attract and retain quality teachers. The governor has been a real friend to public education, quality career and technical education, and to EVIT. I hope you take the time to review this fact sheet prepared by the governor and let your legislative representative know of your support." (LINK)
Joel Todd, Chair,  JTED Consortium 
"On behalf of the Arizona JTED Consortium and the Association for Career + Technical Education (AZCTE), we commend you for your efforts to dramatically increase teacher pay. Your leadership and vision are appreciated by our members who collectively serve nearly 90,000 students through career and technical education and training throughout Arizona.
"We are grateful for your steadfast commitment to achieve a 20% teacher pay increase within the next three years without sacrificing the critical needs of district additional assistance. Your efforts to reduce recidivism in the prison population, run government more efficiently and stimulate the economy have paid off and made this opportunity possible. Thank you!"
Arizona Chamber of Commerce
"The Arizona Chamber of Commerce and Industry supports Gov. Doug Ducey's proposal to raise teacher salaries by 20 percent by the start of the 2020-21 school year.
"Arizona's job creators value teachers; they are integral to the success of our state," Arizona Chamber President and CEO Glenn Hamer said. "Arizona's teachers have earned a pay increase, and our growing economy makes it possible to deliver for them.
"Governor Ducey's plan to boost teacher by 20 percent by the 2020-21 school year and to include the pay increase in the budget baseline and adjust it for inflation in future budget years is bold, timely, and addresses the state's top concern. The Arizona Chamber believes the plan's adoption is essential to state's continued success story. Let's get it done." (LINK)
Greater Phoenix Chamber of Commerce
"The Greater Phoenix Chamber of Commerce thanks Governor Ducey and the Legislature for prioritizing school funding and increasing teacher pay to address the crisis facing Arizona. A strong education system is the cornerstone to ensuring Arizona's future workforce has the skills to meet the needs of our businesses and job creators. We applaud the Governor for putting forward the 20X2020 Plan and look forward to working with his office and the Legislature on the details to ensure the plan meets the needs of our member businesses across all industries, as well as Arizona's education system, and is enacted without delay.
"The Greater Phoenix Chamber's public affairs and workforce readiness committees advocate to enhance academic achievement and accountability while offering appropriate skill training that answers employment needs to create a more effective workforce. These committees' legislative priorities, as defined in the Chamber's board-approved Public Policy Guide, focus on both employment policies and job training, as well as K-12 and higher education.
"The Greater Phoenix Chamber will work collaboratively with the Governor and Legislature to ensure a fiscally sustainable and responsible plan is passed." (LINK)
Southern Arizona Leadership Council
"Southern Arizona Leadership Council (SALC), comprised of 140 CEOs and leaders in the region, supports Gov. Doug Ducey's proposal to provide a much-deserved 20-percent pay increase for teachers in Arizona by 2020.
"The plan, which is now being negotiated in the legislature, would represent an initial significant step toward adequately compensating Arizona's valued educators. SALC members believe that attracting, retaining and rewarding qualified teachers is critical to ensuring continued economic growth and prosperity in our state.
"The salary boost is proposed to be funded in three ways – through increased revenues from Arizona's flourishing economy; by a rollback of several of theGovernor's executive initiatives and proposed tax cuts; and as a result of savings and efficiencies from state programs. As the legislature works with theGovernor to make this proposal a reality, we urge using the proposed available revenue sources and not to divert funding from current commitments to the P-20 education pipeline.
"Our state's future workforce depends on high-quality educators and a robust, fully-funded education system. SALC strongly encourages our state legislators to partner with the Governor on this plan which is a step toward full funding for Arizona's teachers." (LINK)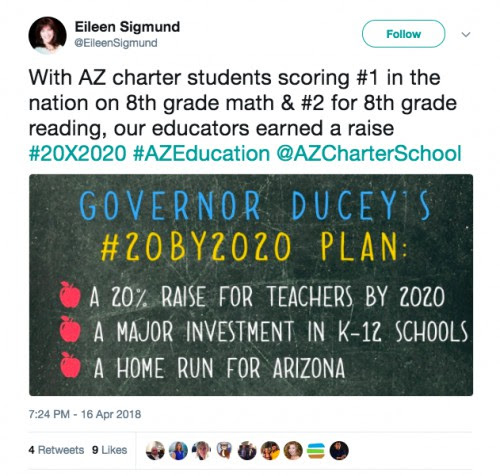 Expect More
"Governor Ducey has outlined a plan to increase teacher pay by 20 percent over the next three years. Learn more here. Based on today's median elementary teacher pay, a 20 percent increase could advance Arizona from 49th in the nation to 36th, which moves us closer to meeting our Education Progress Meter goal.
"In addition, Governor Ducey has promised that this will NOT impact his previously announced plans to fully restore district and charter additional assistance over the next five years, which means that funding would be available for things such as increasing pay for classified and support staff, textbooks, curriculum, technology and school buses.
"We believe this proposal is good progress. Take action today! Urge your legislators to support the Governor's teacher pay proposal and ensure that no funding is taken from other parts of the continuum." (LINK)
###
For more information or assistance, contact Governor Ducey's press office: (602) 542-1342.